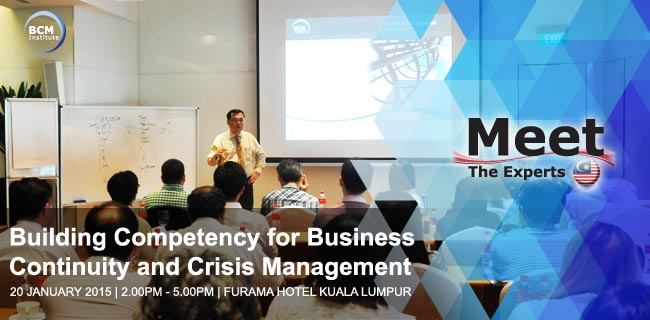 Meet The Experts – 20 January 2015
Competence is a specific range of skill, knowledge, ability to do something successfully, being capable to meet demands. In organizations across the globe, there is in an increased need to truly build the competency to manage change.
Building the business continuity management (BCM) and crisis management (CM) competency sets your organization apart and improves the execution of each implemented BCM and CM program. It allows you to minimize the substantial negative consequences of mismanaging change and better position yourself to be successful on future BCM and CM initiatives. Building the competency to change is not easy but it will be critical for success in coming years.
The presenter will be sharing his vast experience in helping organization can develop its BCM and CM learning roadmap and also to maintain a high level of competency with minimum wastage in training budget and resources.  The participants will be taken through a simple stakeholder analysis and with BCM Institute's vast sets of competency standards, able to map the competency and knowledge requirement for an organization over a period of three to five years.  Example of competency based training BCM courses accredited by the Singapore Workforce Development Agency (WDA) are:
The rigour an national accredited competency based training, its key and clear set of learning objectives and open issues of the topic of interest will be moderated and presented by Dr Goh Moh Heng with several other invited professionals.  Make your way to our first Meet-The-Expert seminar for the year of 2015 at Furama Hotel Bukit Bintang on 20 January 2015. Seats available on a first-come, first-served basis. So, please register now to avoid disappointment!
Programme Summary
Theme
Building Competency for Business Continuity and Crisis Management
Date
20 January 2015
Time
2:00 pm – 5:00 pm (Registration starts at 1.30 pm)
Venue
Furama Hotel Bukit Bintang (view map)
136, Jalan Changkat Thambi Dollah, 55100, Kuala Lumpur, Malaysia
Tel
+60 3 2788 8888
Cost
Complimentary (Limited Seats are based on first-come-first-serve basis)

About the Speakers
Dr Goh Moh Heng is the President of BCM Institute and the Managing Director of GMH Continuity Architects – a specialized BCM Consulting firm. His primary areas of expertise include Business Continuity Management (BCM), Disaster Recovery Planning (DRP), ISO22301 BCM Audit and Crisis Management.Since 2011, Moh Heng has assisted more than 20 organizations, particularly those operating in the Asia Pacific and Middle-East Region in their successful implementation of their Business Continuity Management System (BCMS) and achieving their BS 25999/ SS 540 / ISO 22301 organization certification. In 2010, Dr Goh completed his Advanced Certificate in Training and Assessment (ACTA) to support BCM Institute in becoming the first global institute to deliver competency based business continuity and crisis management competency-based training.  The journey continues for BCM Institute to have its entire instructional team certified in ACTA through the Singapore Workforce development Agency (WDA).
Penny is currently holding the position of Senior Manager – Group Learning and Development in the Lion Group and has been assigned the role of Head of Business at CeDR Corporate Consulting Sdn Bhd in the matters relating to the Group's learning. Incidentally, CeDR has recently won the Human Resources Minister Award –The Best Employer in SME (Services) category at the HRD Awards Night 2014 (which was organised by PSMB). Winning this award is definite proof that CeDR walks the talk in raising competency levels of the Malaysian workforce. She began her career in the UK upon graduating as a business & investment consultant, focusing on the China region to attract and provide a one-stop consultancy service for clients developing a business and human capital development model to facilitate their investment needs in the United Kingdom. Penny then returned to Malaysia to begin her tenure at the Malaysian Institute of Management, where she quickly rose in rank to become the Assistant General Manager of the Professional Certifications and Education.Her diverse portfolio range included the sales division, R&D, programme design, and overseeing events for the Institute. Throughout her career she has grown and nurtured talents directly and indirectly under her care, as she is a firm believer in building the competency of her workforce.
Who Should Attend
Business Continuity Manager/Planner, members of Crisis Management Team
Human Resource, Human Capital or Training Development Managers
Risk management and operational risk professionals
Command Centre Operations Team
Emergency Management Team
CIO, Head of IT, IT and MIS Manager
COO and Head of Operations
Engineer and Technician, Customer Relations
Executive Management overseeing business continuity and crisis management and communication
General Manager, Managing Director of Organizations
Head of Business Continuity Management/ Operational Risk Management
Head of Sales & Marketing, Purchasing, Retail, Logistics & Supply Chain Manager
Operations Director, Regulators, Project Manager
Risk Management professionals, Risk & Compliance Manager
Security Manager, Facility and Administrative Manager
Registration Details
First-come-first-serve basis.
Subject to confirmation from BCM Institute.
BCM Institute reserves the right to accept or to reject registrations.
For further enquiries, please contact us at +603 8063 7232 or email to info.my@bcm-institute.org
Note: The response to our MTE sessions are usually overwhelming; thus, we are sending early invitations for this session. Reservation for seats will be restricted to two participants per organisation; subsequent registrations will be place on the waiting list.
 Organized by