Just like in previous years' the World Continuity Congress locates itself in premier locations in the heart of the city. For 2018, we've decided to base our congress at the newly launched designer, The South Beach at Singapore. For first time visitors to Singapore, we are pleased to inform that the hotel is centrally located and allows you plenty of opportunities to explore Singapore.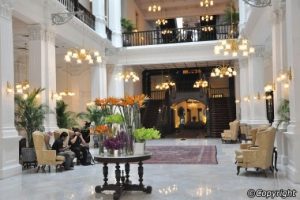 Conference delegates could look forward to walking across the road and checking out the famous hotel that popularised the drink, Singapore Sling and find out a little bit about Singapore's history at the Raffles Hotel. For literature buffs, you'll be awed to note that the Raffles Bar was where Somerset Maugham used to hang out when he was in Singapore.
While, architecture buffs might want to check out the adjacent gothic inspired, Chijmes (pronounced as chimes).
What was once a convent with an impressive chapel has since been turned into a lifestyle and entertainment complex with a myriad of dining and shopping options to choose from and if you get lucky, you may bump into a wedding reception at the beautiful, gazetted national monument, Chijmes Hall where the chapel once was.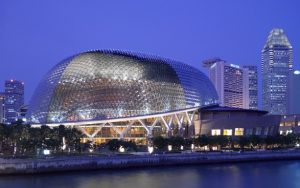 Theatre or performance art lovers may head down to The Esplanade to see what world class performances are in store for them. The venue that recently housed the sell out Les Miserables and Tchaikovsky's Sleeping Beauty is also home to free live jazz, blues, gamelan and world music performances as well. Do check out their programmes at: https://www.esplanade.com/
For more of what attractions to visit, do find out more here:
http://www.singapore-guide.com/top10/top10-attractions-civic-district.htm
Shopping Nearby
For shoppers who are pressed for time there are 2 shopping complexes nearby. Good news too, The Raffles City Shopping Centre and Suntec City Mall provides special privileges for tourists.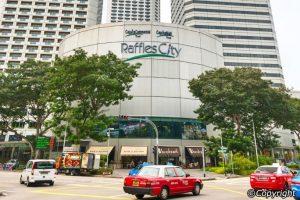 While most malls look the same, The Raffles City Shopping Centre which is opposite the conference venue, is unique in that it is linked to one of Singapore's busiest MRT interchanges allowing you to have access to other parts of Singapore. With 5 floors of shopping, 3 above ground and 2 basement and 200 speciality shops including food outlets, it's a good one stop place. Do find out if your favourite shop has an offer for you via this link: http://www.rafflescity.com.sg/tourist-privileges/tourist-offers/
Delegates could alternatively walk to Suntec City Mall, Singapore's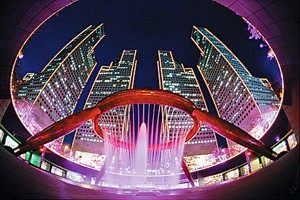 largest and longest running mall. With over 300 stores and free wifi throughout the mall, you may not realised you'd spend a full day shopping. Other attractions you could visit while in the mall include the Alive Museum and the Fountain of Wealth. For those who would like to explore Singapore's land and rivers after the conference, do check out the 3 hour Moonlight Hippo Tour in the comfort of an amphibious vehicle.
Just like its neighbour Raffles City Shopping Centre, it also has an impressive list of tourist offers for you to choose from and while you are at it, get a souvenir to bring home too*.  To find out more, please do so via this link: http://sunteccity.com.sg/tourist_privileges/
*terms and conditions apply.